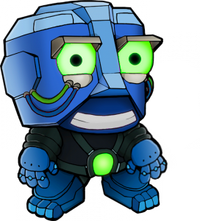 Metalface MK1
is a highly reliable cyborg for long missions with low chance ofsuccess. Loved for its upstanding morale, positive attitude and charming eyes!
You are Metalface your friends are Metalface bots are Metalface.
Main Character
You, the main character, are a human brain within a robot shell who is part of an exploration team from earth collecting organic objects and exploring livable planets throughout the universe.
Brains Eligible:
Edit
Aged 15-95 years
Both male and female!
Mentally healthy*
» Bodily shortcomings not a problem!
Package Includes:
Edit
Memory wipe of past life! (Optional)
A guaranteed adventure!
A second chance!
The following voids warranty:
Rolling
Use of jet shoes indoors
Changing radio channel
Utilizing jet bikes
Compressing leg joints
Unsanctioned tapping of the feet
Walking against conveyour belts
Using the Sloth-Grip™ hands for Climbing
Using the Sloth-Grip™ hands to hold lemons
Throwing boomerangs
Opening the eye-utility hatches
Version History
Edit
Alpha - Introduced.